ABOUT SOFFIA ALICE AND HER HANDMADE KITCHENKNIVES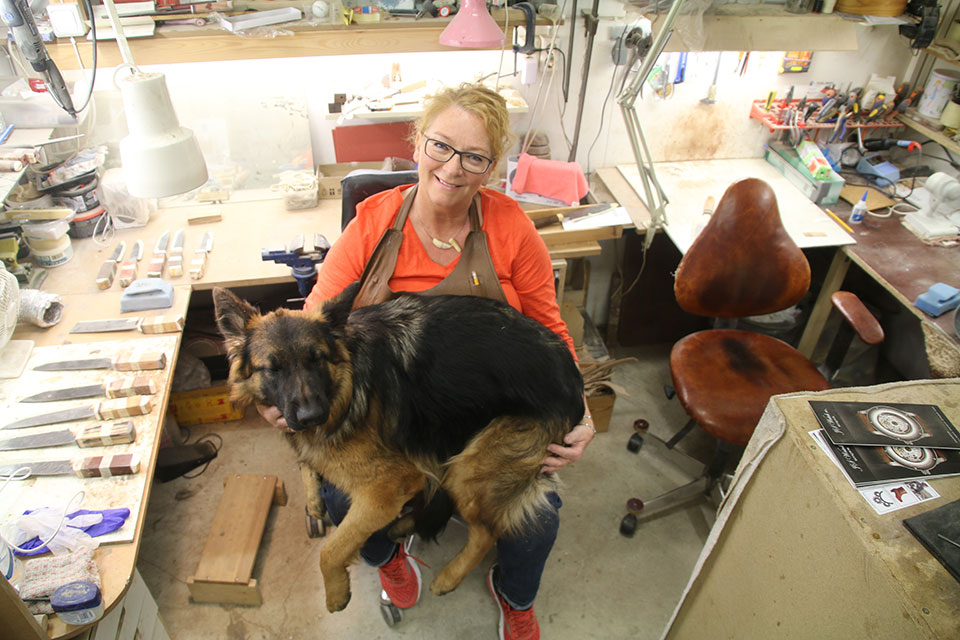 Soffia Alice has worked on her art for over 30 years. She sees herself as a recycler, transforming lesser used materials into something beautiful.
Soffia's love for Iceland is evident in both her work and at her atelier. The workshop is open to the public and visitors are welcome to come by and experience the special mix she has created, bringing together a museum, studio, and shop, all in one space. The rustic workshop is full of interesting items, such as antlers, hooves, horns, and even teeth. Soffia carefully works with the natural materials she finds to create unique handles for her knives, with no two being the same.
When she is not in her workshop, Soffia can often be found following her other passion-traveling around her country, either on her own or as an experienced tour guide. Her travels allow her to gather interesting materials from all over the beautiful countryside of her homeland.
What do you love the most about your profession?
"I love working with my hands. Having the opportunity to make my living as an artist and craftsperson is a joy. I have always been creative, and have always had the desire to create something beautiful. I love painting, crafting, sculpting, and just working with my hands in general. I am lucky to be able to work doing what I love, as it makes the day go by fast—too fast sometimes! Every day I get to spend here in the workshop creating something new is a blessing."
Knives are very ancient tools; is heritage important in your work?
"Knives are tools that serve a purpose and have been essential for the development and evolution of human societies. From my perspective, I am taking this ancient tool and making it into something more. I am adding a layer to the classic utility of the tool and creating something beautiful, but of course making sure it can still serve its purpose and be useful. Iceland is a young civilization and you could say we are a nation still in our infancy. We are a group of people living on this cold but beautiful rock out in the Northern Atlantic. Icelandic heritage is a very important component for me when tying all of this together, and I try to use only Icelandic materials when creating the knife handles for the knives. I want my work to represent the beauty of this island I call home, and I want to share that with as many people as I can."
What is special about the material you choose to work with, and why do you feel it is important to use as much natural Icelandic material as possible?
"I look at myself as a recycler; I am saving parts from animals like hooves, antlers, and teeth-things that normally get discarded. I give these materials a chance to be part of a beautiful, one-of-a-kind work of art," she says. "If my knives are well preserved and taken care of, there is no reason they can't live for centuries in people's homes, preparing a meal and making their homes just a little bit prettier."
What is one thing about your work that people don't normally know?
"People are surprised to learn how long it takes to dry the material we use. Everything has to be at the same humidity level. It can take six years to dry the wood I am using. for hooves we have to boil them for ten hours, and then straighten them, and then it takes one and a half years to dry them properly. Every part of the knife has been treated many times before it is ready to be used."
When people think about knife-making, nature and waterfalls are probably the last things that come to mind. However, that is precisely what you find when you visit Soffia Siguðardóttir's and Páll Kristjánsson knife workshop. Situated in the idyllic Álafosskvos in Mosfellsbær, only a 15 minute drive from downtown Reykjavík, the atelier offers some of the best knives you will ever own.
Soffia's craftsmanship and the atelier are renowned worldwide. But her knives are unique because she only uses sustainable materials. Soffia collects items from nature that would otherwise be thrown away, and gives them a new life. Some of the materials she uses are birch, rowan, horse hooves, reindeer antlers, sheep horns, and whale teeth. As a result every knife is one-of-a-kind. Each knife is fitted with a Japanese, Danish, German, or Swedish blade that is forged out of either Damascus or stainless steel.
Soffia's beautiful artisan kitchen knives are made with the highest quality blades available, which have been handled with care. She is the only knife maker in Iceland who makes kitchen knives. "I get inspiration from nature and my surroundings when I am creating the knives. One colour combination I used was inspired by rust-red and green algae I saw on a ship in the shipyard in the Old Harbour in Reykjavík," Soffia says.
"Sustainability and the environment are very important to me. No animals are hunted for me. The ram horns and horse hooves come from slaughtered animals, and the ivory (teeth) comes from beached whales. If I buy wood, I only buy from specially certified companies in the USA, which can reliably prove that the trees were legally harvested. Mostly I get wood from old trees in Iceland that need to be cut down."
Visiting Soffia and Palli's atelier gives you a particular sensation of calm. It is evident the work done there is done with care. The smell of the different woods and leather of the sheaths, combined with the birds chirping and the soothing sounds of the waterfall, which is literally in their back yard, makes for an exceptional experience-one that is highly recommended!